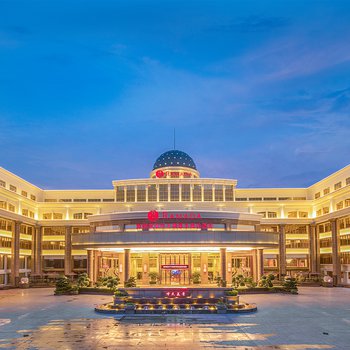 The Western Coast Garden Hotel (Xi'an Huayuan Jiudian) is a large business hotel located on Zhongxin Road, Shajing Street, Bao'an District. Guests arriving from Shenzhen Bao'an International Airport can get to the hotel in under 20 minutes.
Established with a classical European royal garden-style combined with modern art design, this Shenzhen hotel houses a variety of elegant guest rooms equipped with private safes, mini-bars and free high-speed Internet access. The bathroom consists of dry and wet areas and includes LCD television, shower room and bathtub.L
obby bar is the best choice for business talks and late night activities featuring an elegant and pleasant atmosphere. The Western restaurant with elegant decoration provides various Western-style dishes. The Chinese restaurant mainly serves high-end Canton-style dishes and seafood. There are also more than 20 deluxe, private VIP rooms as well as a deluxe banquet hall and multifunctional hall. With traditional Japanese-style building, the Japanese restaurant consists of Teppanyaki rooms and 30-seat Tatami private rooms.
Three meeting rooms in the hotel are equipped with multimedia projectors and specific audio devices as well as professional meeting services, making them an optimal choice for business events. In addition, the business center can provide such services as secretary, translation, copying, typewriting, fax, ticketing and express delivery.
Guests looking for relaxation will find a wide selection of recreational facilities including a gym, an outdoor swimming pool, a sauna area and a club with 78 deluxe karaoke rooms.